Nuwave Induction Cooktop Review: What Makes Them Standout?
Cooking with induction technology is safer and faster than traditional cooking methods. The burner in an induction cooktop uses an electromagnetic coil to heat the food. It works like any conventional cooktop; place the pot or pan on the eye and turn it on to get started cooking. You can get these cooktops in portable versions as well.
The most significant benefit to using Nuwave induction cooktops is the safety. The eye doesn't get hot, so there's little risk to kids or pets. The drawback is you have to replace all your pots and pans because induction cooking requires special pots and pans to work. The tradeoff is worth the money when you consider it's ready to cook faster than other cooktops.
We looked at every model Nuwave offers and to put together a review for you in our Nuwave induction cooktop reviews article. We examined every aspect along with all the pros and cons associated with making a transition like this one. Since all the products we reviewed are made by the same company, we let customer comments and reviews carry more weight in our study than the price.
Nuwave Induction Cooktop: Comparison Table
What Makes The Nuwave Induction Cooktop Standout?
In short, their size makes them easy to use and store plus they are jammed full of features. You can adjust the temperature by ten degrees with a single button press. Some models offer more precise temperature adjustments. The digital readout ensures you have the temperature right and removes the guesswork from cooking. We were impressed by the design and feature list right off the bat.
However, lots of features and a fresh design don't make a product great unless they work and make your life easier. The whole purpose of buying a product like this is to make cooking less of a chore. Nuwave does a great job of combining a space-saving design with a ton of features that take the work out of cooking. You can even program it to cook at multiple temperatures.
The best feature these cooktops offer is energy conservation. They use 70 percent less energy than a traditional stove at max wattage. On the models with wattage control, you can reduce the wattage to 1,300 watts, and the cooktop only uses 10 percent of the energy your stove uses. It still cooks faster and better than your stove at the lowest wattage.
Nuwave induction cooktops are safer than your stove. It uses an electromagnetic coil plus unique cookware to cook your food. There's no open flame or hot burners to burn yourself on or accidentally set something on and ruin it. The only thing that heats up is the cookware and the food in it. You won't burn food or have to worry about grease fires.
They cook food faster than a traditional stove, and quicker than most of their competition. Heating up your cookware for cooking is almost instant. It heats to the precise temperature you set and keeps it there. You can program it to cook at various temperatures throughout the cooking cycle as well. The induction technology allows you to boil water in under two minutes.
The minor benefits are numerous including the vast number of settings available and the space-saving design. They're easy to clean since anything you spill on the eye won't burn and stick to it. If you plan to use it for camping, the PIC Platinum weighs less than six pounds. It's size, and weight makes it easy to pack and move around between camping areas.
Our Favorite Model
Typically, the most expensive model rarely wins this spot, but the Nuwave PIC Platinum took first place as our favorite model. It is the same size as the others and comes with more features. However, we don't always need every element included, but in this case, every function is a benefit. It's twice as good as their least expensive model.
If we are honest, the remote control sold us on the Nuwave PIC Platinum. It has nearly twice the temperature settings as the two least expensive models and more cooking power. It also includes a numeric keypad for quickly programming your cooking cycle. Those are great features, but when you add a remote control to the mix, it's hard to beat.
Our Breakdown of Each Model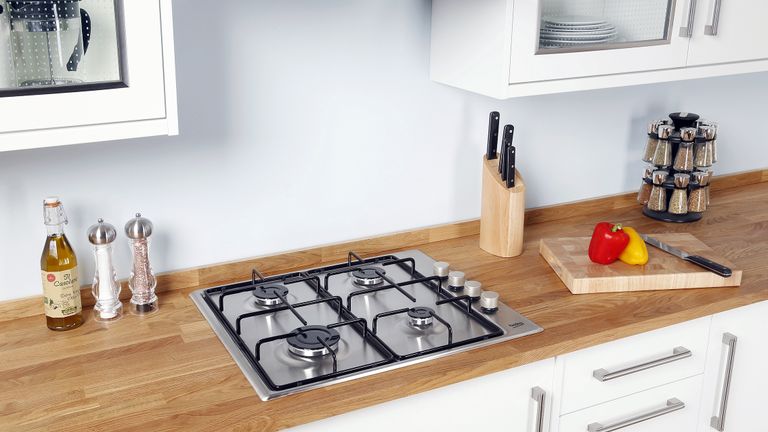 Nuwave offers four models of their popular induction cooktop. From least expensive to most expensive they are the PIC2, PIC Gold, PIC Titanium, and PIC Platinum. All four are great time savers and safer than traditional stoves. You just need to decide how much you want to spend and how many features you need to be included.
NuWave PIC2 Precision Induction Cooktop
This is the least expensive model they offer. It has 1,300 watts of cooking power in a 6.5" induction heating coil. The cooking surface is twelve inches which is also the width of the cooktop. It has 52 temperature setting you can adjust in ten-degree increments. The keypad has a digital readout, but only the necessary controls. This model only uses 10 percent of the energy a traditional stove uses when cooking.
NuWave Precision Induction Cooktop Double 1800-watt Induction Cooktop with Fast, Safe,…
Honestly, this model is almost identical to the PIC 2. It bumps the cooking power up to 1,500 watts, and the induction coil is bigger by 1.5 inches. The cooktop is 12 inches across like the PIC 2. It has the same temperature settings as the PIC 2 as well. The most notable difference is the wattage control which lets you adjust the amount of power used, and the fan is a little quieter.
NuWave Precision Induction Cooktop Gold 1500-watt Portable Induction Cooktop With…
This model bumps it up quite a bit compared to the PIC 2. It has 1,800 watts of cooking power and an 8" induction coil. It is the same size, 12 inches across, as the cheaper models. It comes with better temperature control and 94 settings for precise heating. It has a robust keypad and digital readout to make setting the heat or programming easy.
NuWave Platinum 30401 Precision Induction Cooktop, Black with Remote and Advanced Features…
This model won us over with its remote control, but it's packed with more bonuses and controls. It has 1,800 watts of cooking power and an 8" induction coil. It is 12 inches across like the other models for easy storage. The 94 temperature settings are adjustable in five-degree increments via the numeric keypad. It comes with a remote control to make cooking even more manageable.
All four models are the same size, and they all have keypads with digital readouts. The biggest thing that separates each model is the wattage and the number of temperature settings. We love the remote control that comes with the PIC Platinum, but it's not the best feature it offers. The keypad is the real champion of these induction cooktops. They make programming and setting temperatures easy.
Are They Affordable?
They aren't cheap, but they are worth the money. Plan to spend at least an extra $100 on cookware to go with them since they need special pots and pans to work. They use about 70 percent less energy than a traditional stove eye, so they help save money on power bills. The burner is safer than a regular stove, and it won't burn you if you accidentally touch it. Let's look at the price on Amazon:
PIC 2: You can order this model from Amazon for $72.99.
PIC Gold: Amazon has this model for $87.50.
PIC Titanium: This version is currently unavailable except as a used product, but we included it because they listed it on their website.
PIC Platinum: This model sells for $129.95 on Amazon.
If you order it from Amazon, expect to pay for your choice of model plus a set of cookware, and shipping of course. The Nuwave website, at the time of this writing, offered a nice deal on the PIC Platinum induction cooktop. For three payments, you get two PIC Platinum cooktops plus a few bonus items. We recommend taking that deal and just ordering the cookware from Amazon.
What do Customers Think?
Based on their comments online, customers love these induction cooktops. They claim they never burn food anymore and it cooks the food perfectly each time. If you get the cookware that includes a grill, you have the option to grill in your kitchen. That works out great for rainy or hot days when grilling outside is unbearable. Customers were pleased with the grill features.
Some customers tested the energy usage of their induction cooktop and agreed that they use a third of the energy a traditional stove uses. Those customers tested this on the PIC Platinum cooktop. Saving money on power, especially during the summer months, is a big deal these days. Cutting time off cooking and saving money on energy carries a lot of weight with us.
The feature customers raved about more than anything is the fast cooking times. It heats up quickly, and you can boil water in under two minutes. While they heat up almost instantly, they don't overshoot the temperature or vary by more than a few degrees. Customers confirm that the temperature settings are precise and easy to use.
A few customer's comments were peppered with negative comments. Most loved the Nuwave induction cooktop they purchased, but they claimed the had issues with shipping or not getting the right product. We were unable to determine if they ordered their cooktop from Nuwave or a third party. Most of these customers went on to say the issue was resolved to their satisfaction.
Customer reviews and comments remain the best way to determine the worth of a product. However, not all customers use their product correctly, and shipping errors happen from time to time. Based on the overall satisfaction of customers, these products are worth the money and work as intended. It's worth mentioning that most of the customers owned the Nuwave PIC Platinum induction cooktop.
Are They Better than their Competition?
You can buy cheaper induction cooktops that probably work pretty well. Still, we think Nuwave induction cooktops are better for several reasons. Our most prominent reason is energy savings. Most other induction cooktops use about 30 percent more energy. As we mentioned before, saving energy carries a lot of weight these days in determining the value of products like these.
The Nuwave cooktops are round while most other brands are square. That may not seem like a big deal to you, but round appliances take up less counter space. This is especially important if you have limited counter space in your kitchen or plan to use the cooktop on a camping trip. They are great additions to your camping gear if your campground supplies power or you have a generator.
Nuwave cooktops have more features than any other brand we checked out. The keypad on most brands is similar to a cheap microwave and don't offer many adjustments. The Nuwave keypad features an LED readout, and each setting has a separate button. There's no guessing involved with these cooktops. If you need it set to 210 degrees, it's easy to do and verify.
Our Opinion
We recommend getting yourself a Nuwave induction cooktop. We found glowing customer comments on the PIC Platinum and a few on the other products. The only negative comments we found were shipping errors. Shipping errors happen to any business that sends a high volume of products. It's not fun to get the wrong product, but it's not a deal breaker.
We can't think of any reason to not try one of these out. However, a few safety concerns come with these products. They recommend anyone with a pacemaker or oxygen tank stay at least two feet away from the induction coil. The magnetic field generated by the coil might react with a pacemaker or oxygen tank.
Conclusion
Saving money is important, and it's something we all try to do these days. The initial investment is a little high, but Nuwave induction cooktops save money in the long run. They use less energy and save on food bills because you won't accidentally ruin or burn food anymore. As a bonus, these products are great for camping, boats, RVs, or in-home use.
Last update on 2023-03-26 / Affiliate links / Images from Amazon Product Advertising API