How to Choose the Right Sink Type for Your Brand New Kitchen
If the kitchen is the heart of the home, then the sink is what keeps it beating.  As one of the most-used features in any home, it's likely to get worn-out more quickly than other appliances or fixtures.
Whether you're in the market for a kitchen remodel, or you just want to update your space and give it a fresh new look, finding the right sink means narrowing down your choices for the hundreds available.
In this helpful guide, we will point you in the right direction by educating you on the options of mounts, basins, shapes, and materials available in kitchen sinks.  You'll be able to narrow down your choices to find one that fits both the aesthetic and functional needs of your home.
Sink Mount Styles
Sinks come in all shapes and sizes, but four mount styles are most common.  Which is the best choice for you will depend on your space and your countertop material.  You'll choose from:
Apron Front Mount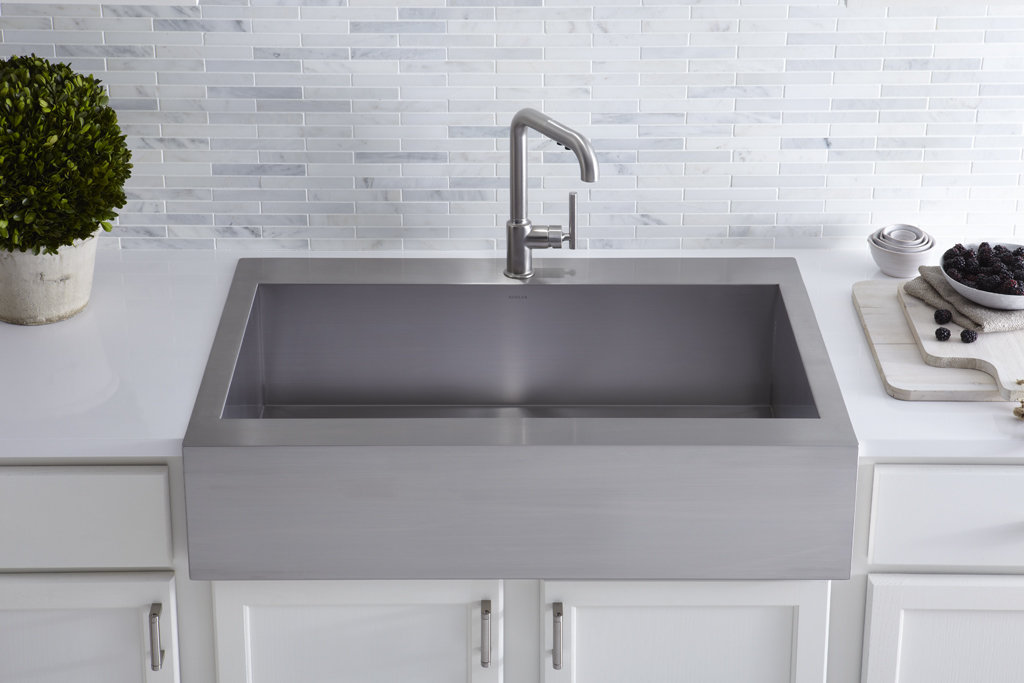 These are also sometimes called farmhouse sinks and have characteristics like a long, exposed front wall that makes up a portion of the counter, and a deep and wide basin.
Undermount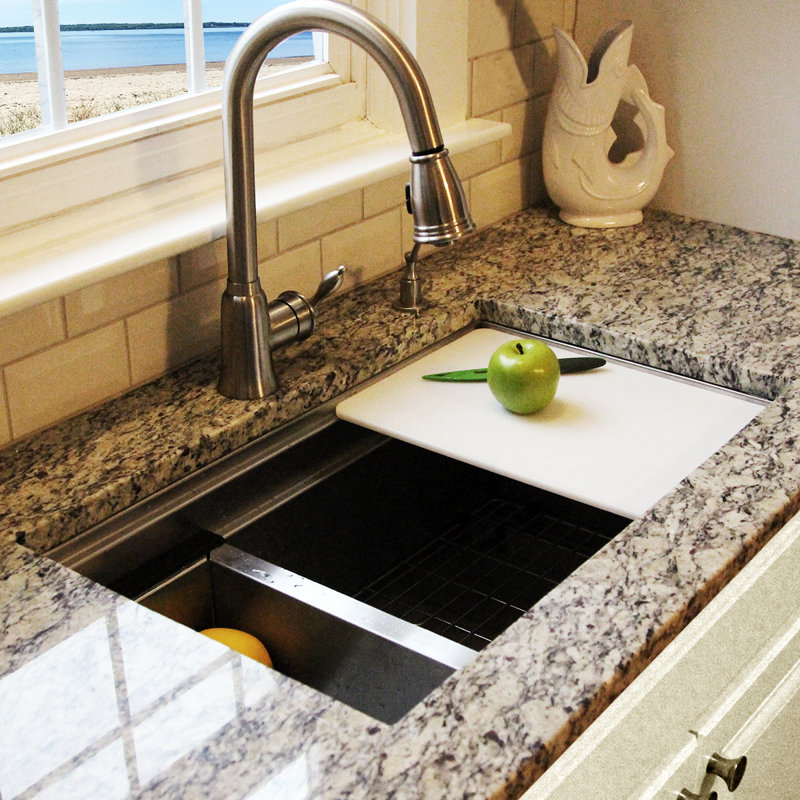 As the name suggests, this sink type is installed under your countertop and secured with specialized clips.  You'll need sturdy counter material for these to work, but they are popular because there is no rim to catch debris.  You can sweep crumbs right from the surface into the basin.
Drop-In
This is the most common type of sink mount because it's both inexpensive and simple to install.  All you need to do is cut a hole the size of the basin and then lower the sink into space.  The weight rests on the rim, and caulk is applied to form a watertight seal.
Integral
Also called integrated sinks, these options are pre-fabricated by the manufacturer out of the same material as your countertops.  They flow seamlessly from counter to basin, but require custom-ordering and can be pricey.
Basins and Configuration
One of the primary reasons that homeowners want to upgrade their kitchen sink is to make it more functional.  The number and configuration of your sink basins can make a huge difference in how simple it is to complete your household tasks.
You'll want to choose a layout that gives you room to maneuver, but that also fits in the space you have available.  Here are the most common setups, and some positives and negatives to consider about each.
One Large and Open Basin
Popular in farmhouse sink mount styles, a single open basin makes it simple to get large items like pots and pans clean.  This is also an excellent option if you have a baby or small animal that you want to bathe in your kitchen sink.
Most one-basin models are large and feature a lot of depth that makes it easy to submerge anything from cookware to lots of fruits and vegetables.
A sink with only one compartment may make multi-tasking tricky.  If you need to both wash dishes and prep food simultaneously, you may need to invest in kitchen accessories like a high-quality rinse basket to avoid cross-contamination and get the job done.
Two Basins- One Large One Smaller
In the home design world, these are usually referred to as an offset sink and are one of the more common configurations.  They are often a 60/40 split, but you can find ones in different sizes if you want another ratio.
This option is convenient because it's easy to multitask and wash dishes while also cleaning vegetables without having to worry about cross-contamination.  Moreover, if you're someone who hand washes your plates, this setup is perfect for having one basin with soapy wash water and a second with fresh water to rinse.
If you frequently have to scrub large casserole pans or other oversized items, the sink may not be big enough to accommodate your needs.
Equal Split
Sometimes also called a 50/50 design, this option features two basins that are equal sized.   These are found mostly in older homes and aren't as popular today as they were in the 1950's.  That said, they have a traditional look, provide excellent functionality, and are the perfect choice if you enjoy symmetry and exact measurements in your space.
Three Compartments
If you have a large space in your countertop for your sink, you could install one that has two large basins and a small, center compartment that has your garbage disposal.  If you find yourself frequently wishing you could scrape your plates and use your garbage disposal when you have a pot soaking, this is a solution to that problem.
This configuration is also an excellent choice if you have someone with special dietary concerns, like an allergy to gluten, in your household.  The extra basin allows you to keep contaminated dishes and cookware separate and reduce the risk of exposure.
Shape
The shape of your sink can not only increase its overall functionality but is an important design element to consider to ensure it fits with the aesthetic of your home.  These are the most prevalent.
Farmhouse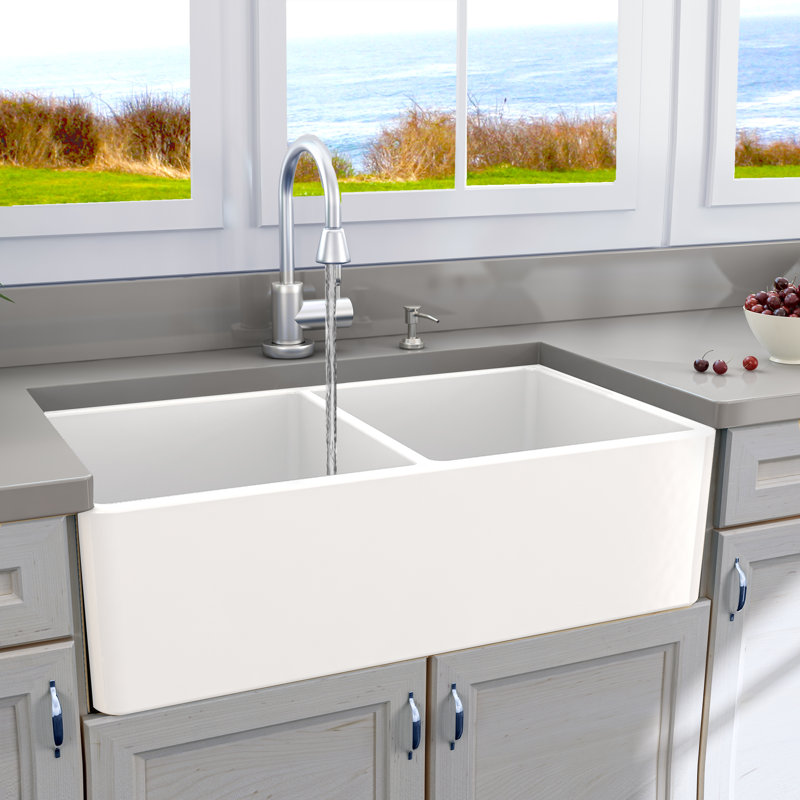 If you want a sink that is not only functional but that doubles as a design feature in your kitchen, a farmhouse shaped option might be the way to go.  Configured as one large, deep basin, this option has an apron front which means that the sink material is exposed rather than being hidden within your countertops.
This gives it a vintage vibe, and can also allow you to have an even larger sink that you might otherwise be able to accommodate.  Normal designs sit in line with your kitchen counter, but a farmhouse basin can extend beyond that line without disrupting the flow of the room.
If you have mobility issues or want an option that is easy for children or shorter adults to access, this is a wonderful choice.
Two-Basin Farmhouse
Identical in every way to a traditional farmhouse sink, a double farmhouse shape simply has two separate compartments rather than one large basin.  It offers all of the same benefits but gives you more versatility if you are someone who needs to multitask with your sink.
Curved Sides
While the farmhouse styles are all about straight edges, sinks with rounded or curved features soften the look of your kitchen.  The gentle slope in the basin can make it easier to get debris out of the corners and to keep your sink clean.
You can opt for one with curves both where they meet the countertops and in the basin, or choose a model that has defined angles on top and curves at the bottom.
Homeowners that have a modern or minimalistic vibe and like the decor in sharp angles and straight lines likely won't feel this option is a fit in their home.
Material
Much like kitchen countertops, sinks come in a variety of material options.  Here is a list of the most common with notes about their expected wear and tear, durability, and cleaning considerations.
Porcelain
The material traditionally used in kitchen sinks for decades, porcelain is a durable and affordable material that offers lots of design options.  It comes in a vast array of colors, so you can go with anything from a traditional white to something that's a bold pop and provides a focal point in the room.
Although they look great, porcelain sinks are susceptible to wear and tear.  If they receive a hard impact, like a heavy piece of cookware falling at an odd angle, it's possible to chip the surface which will leave a black spot.  You can also scuff the finish with metal or cast iron pans, and those marks are difficult to remove, especially if your sink is a color other than white.
Stainless Steel
If you want an option that is practically indestructible, stainless steel is a safe bet.  It's almost impossible to damage the surface irreparably.  While it is susceptible to scratches, you can easily buff them out to get the finish looking new again.  You could also insert a wire try at the base of the sink to protect against scratches.
If you live in an area with hard water, be prepared that you may have to give the surface a little extra elbow grease to keep it clear from water spots and calcium build-up.
Stainless steel can have both vintage or modern aesthetic depending on the shape and configuration that you choose, which makes it an excellent option for many homes.
Stone
If you love the idea of matching materials, choosing a sink made of natural stone is the perfect way to achieve the look.  You can select one that's made from the same stuff as your countertops to give you a sleek and sophisticated look.
Using a natural stone like soapstone does have a few drawbacks.  Not only is it expensive, but it can be easily damaged.  You may also have to invest in specialized products to keep it clean and maintained.
Granite Composite
If you have granite countertops or want an option that won't show ugly hard water stains, a granite composite sink may be a perfect choice.  Manufacturers combine durable polymers that prevent chipping and scratching with beautiful granite to create basins in a variety of colors.
Although they are durable and easy to keep clean, light colors might absorb dark liquids and show stains.  You'll need to follow the same maintenance protocols you would do for other granite surfaces to keep them pristine.